Katya and Neil were married on May 5th, 2018 at Saltwater Farm Vineyard in Stonington, Connecticut. For the start of May the day was unseasonably warm, too be honest we were excepting it to be a little chilly considering it was still spring but it was so warm it felt like a summer day. That's New England for you, if you don't like the weather- wait 15 minutes.
On the morning of, Katya was getting ready with her bridesmaids at a remarkable location on the outskirts of Mystic- I think it was an Airbnb or a VRBO either way it was a stunning stone house estate with sweeping views and three floors of historic home. In disbelief we haven't heard of this property Leigh and I noted that we must find out the info on this house- in case we ever had the chance for a staycation.  As always Katya greeted us with a beautiful smile and a warm hug. Her girls were getting beautified by Sarah Victor (makeup) and Lauren Visciso (hair). Incredible. The makeup looked like Golden Age movie starlets without being too over the top. Striking and flawless work. Have a look.
The wedding ceremony and reception were both being held at Saltwater Farm, a winery and vineyard on the Connecticut Shoreline in a town called Stonington. The white crushed shell driveway will take you to the 108 acres that is Saltwater Farm- to the right tall grasses line the property and the wetlands from the Wequetquock River are on your left-pulling in you can catch a glimpse of the restored hangar that is their tasting room. The ceremony took place outside on the main green lawn overlooking the vineyard and centered at the end of 1800 feet of a grass landing strip that dates back the 1930's. The cocktail hour taking place adjacent to the ceremony on a finished stone tile patio and the reception inside a restored World War II-era old airplane hanger finished with dark wooden beams and industrial metal siding. We were thankful to have a beautiful warm May day, clear skies for Katya.
From the beginning Katya had always vocalized that she was drawn to a very organic and uncontrived looks for her wedding. One that was very nature-inspired.  A color palette found in the outdoors- greens like emeralds, crèmes and a splash of metallic for fun perhaps. She loved garlands, loose, natural, lush and beauty found in simplicity. Our aesthetic was very much in line with Katya's and Neil's wishes for their wedding day, as we are forever inspired by Mother Nature.
Katya carried the palest of pink, fully blossomed peony's, heavily scented white garden roses, lysimachia, assorted shades of pink from astilbe, ranunculus and slight peach from the sweetest of spray roses. Also included was jasmine who just has a mind of its own, spiraling here there and everywhere.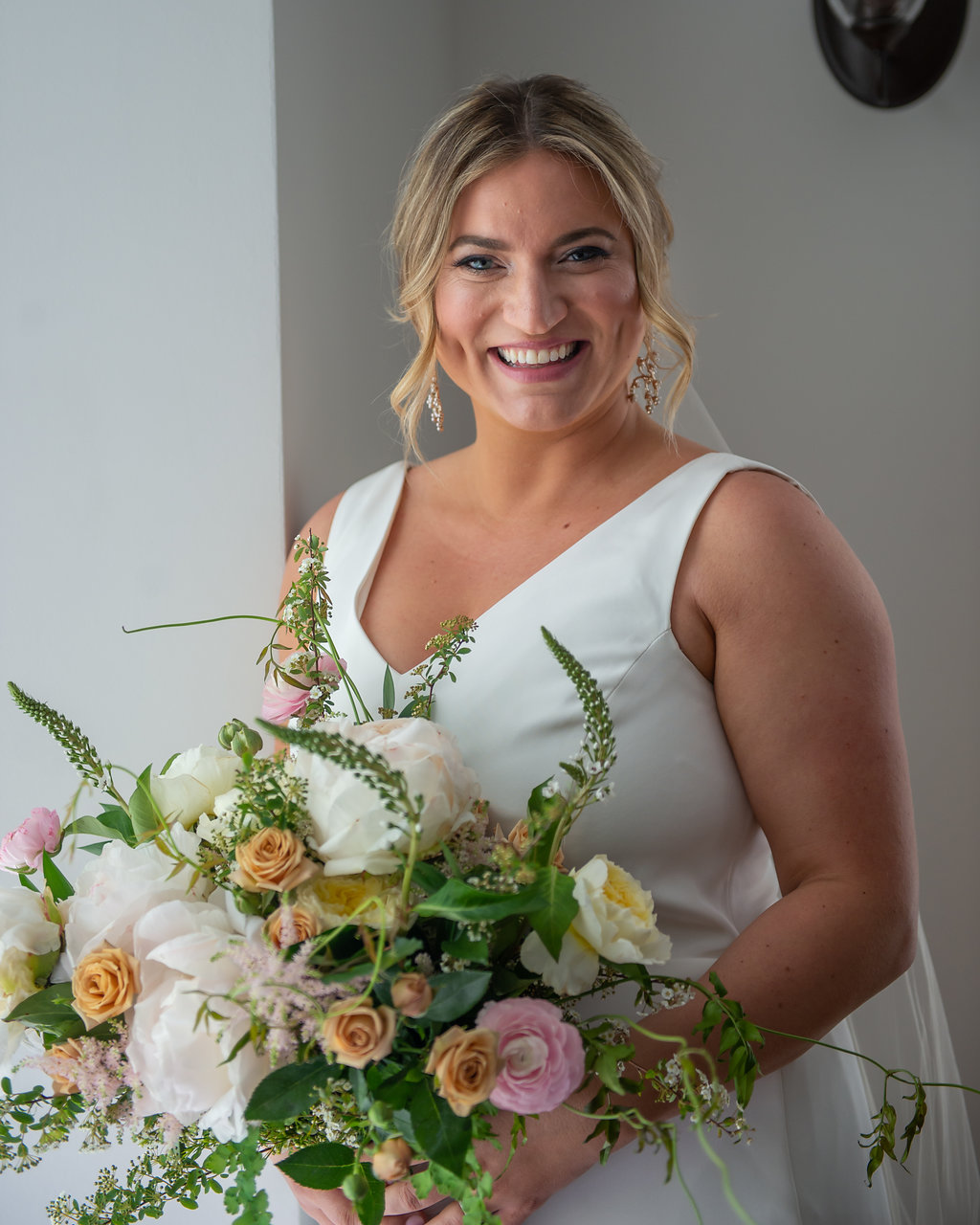 Katya had wanted each of her bridesmaids to carry something a little different. She wanted natural garden bouquets as if each were picked from a separate but special garden. One bouquet was of delicate soft pink cherry blossoms. Each branch had just the beginnings of new greenery to add its springtime touch. The three adorable little flower girls carried blossoms of sweet peas, white quince, spirea and suede petaled tweedia.  Some bouquets had peony's mixed with maiden hair fern to give it just the right touch of whimsy.
The wedding ceremony consisted of two major floral elements. The aisle and the altar. The aisle remains one of our favorites to date.
Weathered wooden rectangle boxes bursting with greens and whites. Maiden hair and sword fern, white queen anne's lace, fragrant stock and lysimachia. Spierea, oh the spierea. Spring just poured out of each box and lined the sides of the aisle and it's a good thing because after a long cold winter it's just the wild vibrancy that we long to see.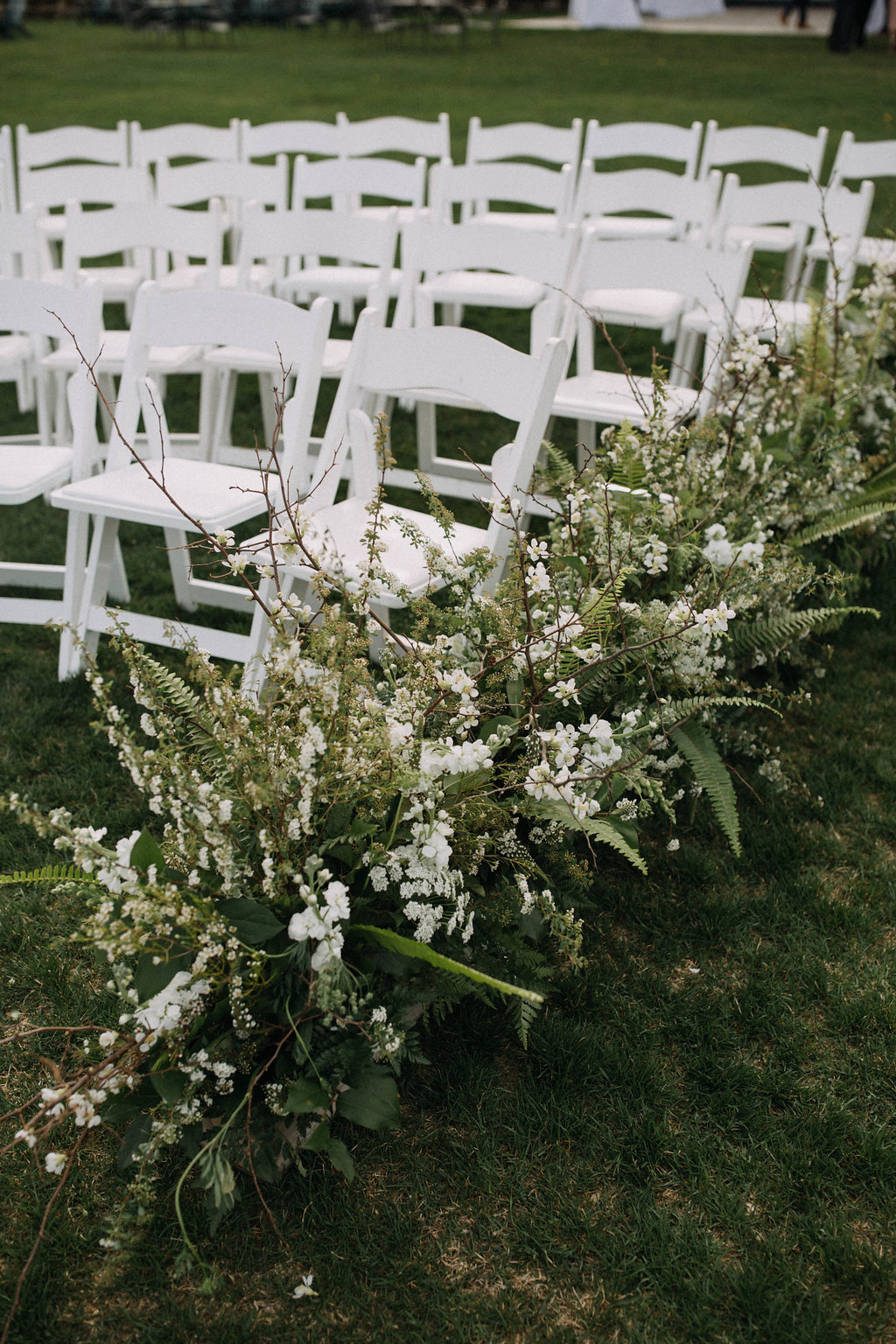 Our versatile arch was designed with statement organic simplicity in mind. Foraged finds and whimsical quince draped this piece to create a modest yet wild look. Lyschemia, spirea and a bounty of textured greens gathered at the base of the arch which was placed on top of Saltwater Farms worn wooden platform- a seamless compliment blending in with the grounds but not at all lost among spectators.
One of the important design aspects to Katya and Neil was a hanging installation for the wedding reception, particularly greens. Saltwater Farms ceilings are vaulted and allow for such grand ideas. Working with Ryan Designs and complimenting their bistro lights- our green emerald garlands, lush and whimsy filled with plumose fern and textured greens created a fun, festive and 'al fresco' experience for guests to dine under.
Katya  loves orchids and wished to incorporate them into her wedding floral designs so we decided to do an alternating design look for the tablescapes. Both to be demure, simplistic and beautiful.
Clean, clear and modern glass bud vases in several sizes were topped off with queen Anne's lace, tulips and the divinely scented and one of the bride's must haves- Lily of the valley. Classic white pillars flickered with candlelight, dancing off of the beautiful array of glassware on the table. Aged and patina silver frames housed table numbers inspired by old botanical artworks, adding that touch of metallic from the original color palette.
We were thrilled to hear that Katya was open to our ideas regarding her wedding escort card table. We had just the look in mind. Our reclaimed barn wood table with distressed white legs from our rentals collection paired with our weathered galvanized metal oversized container was the ideal look to place the wedding escort cards. Green moss and whisps of wax flower placed here and there to create a tabletop garden for guests to pluck their customized calligraphy escort card from. Calligraphy by talented Cat Wilcox.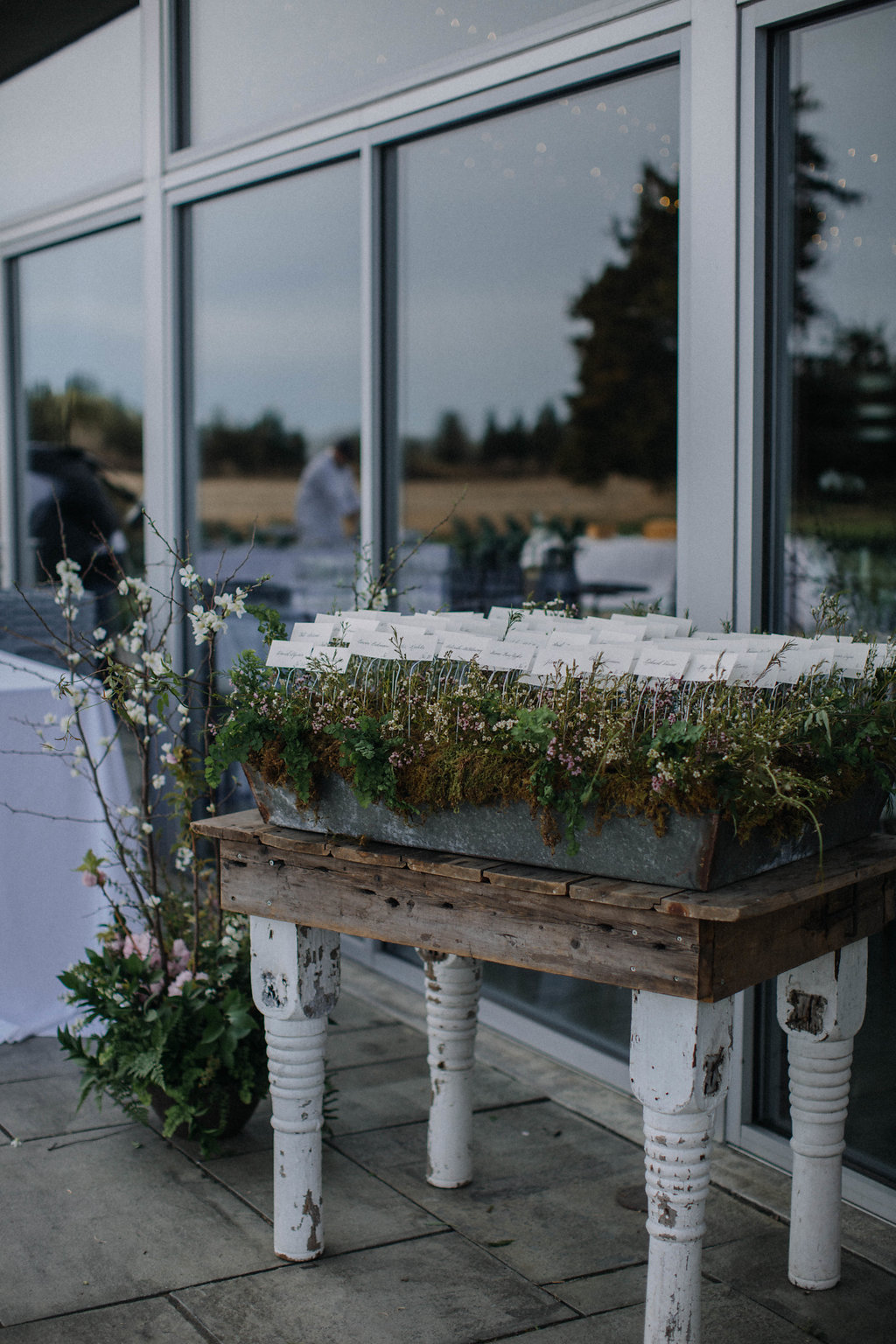 Floor arrangements brimming with textured greens, ferns and towering cherry blossoms were sprinkled around the wedding venue created a playful look encouraged by the time of year, Spring.
Originally we were going to be designing a clear acrylic wedding sign and place it on an easel dripping with greens but once we started conceptualizing ideas for the we thought we'd take this wedding signage for their wedding a bit further. Encased in a custom acrylic case we placed foxglove and lush greenery, pillar candles here and there made for quite the exhibit.