By the time spring rolls around after a long, gloomy winter, the anticipation of floral abundance is. killing. us.  The dark, moody days of January and February are finally a thing of the past and we are on the constant look out for some of our most beloved floral friends around every corner.  We pull out all the stops, put the champers on ice and roll out the proverbial red carpet to await the arrival of these damned near perfect blooms.  For us it's not just about their beauty, it goes much deeper than that.  Science says flower power can have a profound effect on mental health and well being. From boosting your mood to reducing stress, to improving air quality and sleep, the benefits are endless.  Don't take our word for it, read on for a list of our fave spring blooms and why we are simply OBSESSED.
Daffodil – Once these trumpet shaped friends make their debut, there is no stopping them. The daffodils gloriously silky petals flaunt warm shades of yellows, creams, and oranges and although they are considered by many to be "fairly common", we can assure you, they are anything but.  One could even argue, they are distinctly and effortlessly tres chic and quite the belle of the ball.  The latin name for daffodil is Narcissus, presumably named after the greek god known for his unbelievable beauty.  Long story short, the ancient fable says that the self obsessed Narcissus rebuked a mountain nymph called Echo after she became bewitched by his looks. The goddess of revenge – Nemesis – punished Narcissus by luring him to a stream, where he fell in love with his own reflection and was unable to look away for days on end. He eventually became weak and exhausted and fell in to the stream, drowning.  Daffodils often grow bending downwards, mirroring Narcissus  as he admired himself in that stream.  Whether you believe the myth or not, the fact remains, daffodils are the epitome of spring, hope and new beginnings.  As daffodil season comes to a close, look for some of our favorites – King Alfred, Petit Four, Replete, Ice King, Red Devon, Winston Churchill – just to name a few.  Nostalgic and whimsical, all you need is one stem to make a major statement.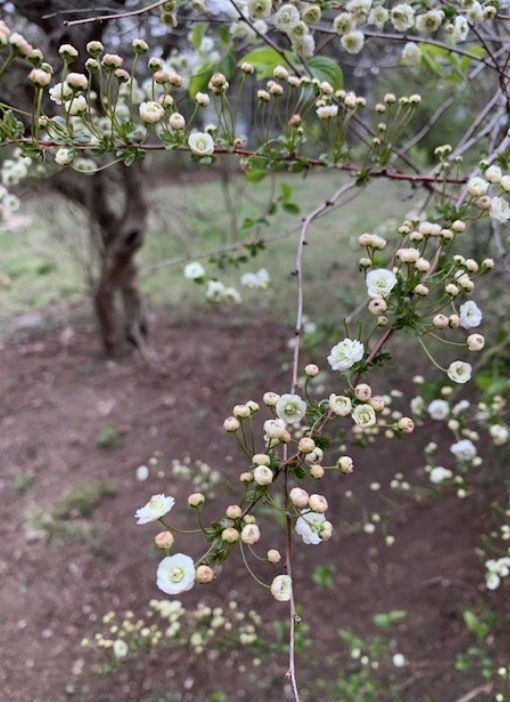 Spirea – We like to think of spirea as a bit of the red headed stepchild. No one really stops to consider her, but she is strong and sneaky beautiful and we encourage, nay insist, that you to get to know her immediately.  Reminiscent of a fairytale-esque garden in a far off land somewhere, the flowers that saturate the arching branches of the spirea plant are the tiniest, most adorable white and pink sort.  Known to be attractive to both birds and butterflies, certain types of spirea have even been used by early settlers as an aspirin substitute. Medicinal uses aside, we are always glad to grab a fistful to add to our arrangement or to shine as a standalone statement piece. We half expect Snow White to come marching by with her 7 dwarves whenever spirea is in the room – she's just THAT magical.  The moral of the story?  Do not overlook this often unsung hero, she shines bright against any backdrop and certainly shouldn't exist as a wall flower.
Grape Hyacinth: Worthy of an Oscar for its brilliant appearance on nightstands, bathroom counters and in kitchens across America.  Who wouldn't want to wake up to a teeny, tiny vase full of these darling purple clusters? More commonly known as bluebells or bluebonnets, the grape hyacinth is an upright purple flower resembling baby bunches of grapes.   CUTEEEEE! These shy guys only grow to about 3 inches tall and provide a wild kind of earthy purple carpet to be found all over the place in the springtime.  Look for her underfoot between April and July, and may she continue to be nominated for one of the best supporting spring perennials for many seasons to come.
Tulip: It's a bird!  It's a plane! It's…the indisputable superhero of spring! A member of the lily family and representing happiness and love, the legendary tulip usually appears in perfectly symmetrical rows and bright shades of reds, pinks, purples and yellows.  At the end of winter, we close our eyes and make a wish for warm weather and these beautiful blooms materialize without fail, like clockwork, and we are oh so grateful for their reassuring presence. We look for them in flower fields, farmers markets and in vases on tabletops just about everywhere we go, and we just cant. get. enough.  These blooms are so cherished worldwide that each year, millions flock to destination tulip fields from the quaint dutch towns of the Netherlands to the Skagit Valley of Washington State.  It's easy to see why the sheer magnetism of the iconic tulip is unparalleled, we wait all year for these bad boys!
Stock: If heaven came in a bottle it would undoubtedly be made from the petals of stock flowers. This fragrant bloom doesn't just smell incredible, it's also totally gorgeous! PLOT TWIST! The stock flower is complex, layered and is one of Leigh's absolute favorites. Like ever.  Pair a few stems with tulips and viola and you've got yourself a winning bouquet for every occasion.
Fritillaria Persica: The strikingly unusual Fritillaria Persica, also known as the Persian lily, is sexy, dark, mysterious and a little bit weird.  But like, good weird.  Native to the Middle East – specifically Southern Turkey, Iran, Iraq, Lebanon, Syria, Palestine and Isreal – these exotic narrow, bell shaped blooms WOW in rich shades of plum, ivory and sage. Think Lord of the Rings meets Monty Don.  An intoxicating blend of obscure petals and unusual architecture makes for a truly unique floral experience.  Fritillaria Persica may be bit of a mouthful, but make no mistake, she needs no help in seducing her admirers. Her beauty is timeless.
There it is, our top picks for spring blooms right now.  With all this uncertainty in the world, there is one thing we're completely sure of, flowers are essential.
Come visit us in our new shop in Watch Hill- open now!
Written by Erin Jonsson